PDFescape Desktop
There are 2 rotation options in PDFescape Desktop.

In the View Tab you will see a Rotate section containing a Left and Right option. Choosing either will rotate your document 90° to the left or right. This rotation is superficial and does not actually modify the document in any way. This means that even if you save the file when it is opened the rotation orientation will not change.

To actually rotate a page, choose the Rotate option in the Edit Tab.

In the window that opens choose which pages should be rotated. Then choose your orientation. The A in the upright position represents 0 degrees. You can rotate your page by selecting the rotated A that best reflects the angle of rotation. When you are ready you should click on Rotate.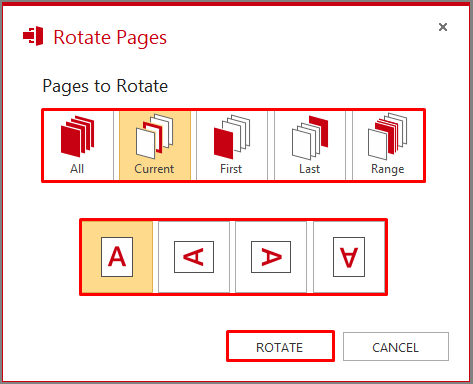 When you save your file, the changes will be retained.
PDFescape Online
In PDFescape Online there 2 rotation options.
Сhoose the page you want to rotate.

Pick the page you want to rotate from the Preview Pane.
Click on the Page tab to choose either the Rotate Left or the Rotate Right options.
The page will rotate 90° at a time. Click on the buttons Rotate Left or Rotate Right twice to rotate the pages to the left or right for 180°.
*Note: You can choose the page, by switching to the active page. Only one page can be selected and rotated at a time.